Ion Pair Reagents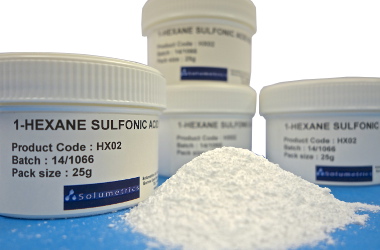 Ion-exchange chromatography systems have previously been utilized in HPLC analysis of ionic samples. Recently, reversed-phase partition chromatography using ion-pair reagents has been developed and utilized. The ionic samples form an ion-pair with ion-pair reagents in the mobile phase to become electrically neutral leading to greater ease of separation.
UV and fluorescence detectors are widely used. Therefore ion-pair reagents must lack UV absorption and fluorescence themselves to obtain highly sensitive detection of samples. The UV absorption of sodium alkanesulfonates is minimal so that these reagents can be used for reliable HPLC analysis.
Fully synthesized in house and of exceptional quality. The very best available.
You do not need to buy to our specification, we will make to your specification.
Made, packed and labelled, your way.